November 6, 2007 – 7:38 am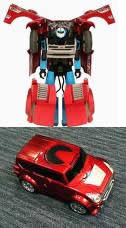 Let's play the "pick an adjective" game. Depending upon your age, you can chose from cool, slick, phat, sick, awesome, neat, groovy or just fill in the blank with your own descriptive word – as long as it means you are really impressed. Now, keep that word readily accessible since you are going to need it to describe the new Learning Curve Johnny Lightning V-Bot remote control transformer.
Here is how you play the game. First, you struggle to get the Johnny Lightning V-Bot out of the packaging. I don't know who is responsible for the package design for these toys but they need to spend some time studying how Apple Computer, Inc. designs its packaging. It shouldn't take a screwdriver and wire cutters to get a toy out of its packaging! Whew, I feel better now that I got that off my chest – but I digress. Once you free Johnny Lightning from his packaging prison, you'll need to power him up. It will take six c-cell batteries, three in each leg, and a 9 volt battery to power the remote control. I have to admit that when I was standing in line at Walmart, I was thinking that this seemed like a lot of juice for a toy but I later found out why the V-Bot required so much power.
So what exactly is this power hungry transformer? The V_Bot is a three-in-one remote control car, controllable robot and MP3 speaker. Johnny Lighting ships in the transformer robot mode and I'm not talking about some little transformer like the ones that were popular when my son was young. This big boy stands nearly 18″ tall including his wings. With the touch of a button on the remote control, he transforms into a tricked out remote control SUV that measures about 14″ in length.
The V_Bot's hand held remote control operates both the vehicle and the robot. On the driving side of things you've got digital speed driving with the same type of full function controls you would expect in a remote controlled car. The robot also has over 720 dance moves programmed into his system so he can really light up the dance floor. Oh, I almost forgot, he is also the ultimate portable docking station for any MP3 player with special light effects.
I have also concluded that there must be some type of transcendental connection between Johnny Lightning and every adult that sees him strut his stuff for the first time. They have all blurted out something like, "Oh man, that is cool!" or "That's awesome!", which is exactly what I was thinking the first time I saw him transform. If the adults get that excited about seeing him do his thing, you can imagine how your kid would react. If the light in his (or her) eyes doesn't soften the blow of the $150 price tag, go look in the mirror at the glow in your own eyes. This is the transformer that you wish you could have had when you were a kid so go ahead – splurge! It will look awesome under the Christmas tree.
CLICK HERE: