February 6, 2012 – 14:26 pm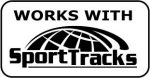 If you are like many folks, one of your New Year's resolutions had something to do with losing weight and/or getting back in shape.  Since we are over a month into 2012, most of you have already abandoned such craziness.  However, for the minority of you that have stuck with it, you should be starting to get your mileage up to the danger zone.  What is the danger zone?  It is when you can comfortably run 3 – 5 miles (5 – 8 km for you European types).  What happens when you reach this danger zone is that you  begin to convince yourself that running a 1/2 Marathon (13.1 miles) or even a marathon (26.2 miles) is within your reach.  If you have reached this point, far be it from me to convince you otherwise.  In fact, let me try to help you out by recommending a tool to help you reach your lofty fitness goal.  Give SportTrack a look.
SportTracks helps you keep track of your training regardless of whether you are a runner, a cyclist or, worse yet, a multi-sport athlete.  It tracks your training times and distances.  You can also lay out training runs by sinking up to your GPS devices.
Best of all its FREE, as in beer (if you haven't sworn beer off as another of your resolutions).  Unfortunately, it only works with Windows XP, Windows Vista, and Windows 7 so Mac users will have to find an alternative.  So check it out and keep up the good work.