May 14, 2012 – 9:45 am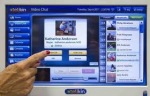 Most people who know me know that I am an Apple computer enthusiast through and through.  In business and at home, I use a MacBook Pro and an iPhone.  So this article may come as a surprise since I am going to recommend that some people take a look at a "different" computer.
I recently heard a news commentator referring to a new political demographic called the "silver ponytail" group.  I am not sure who exactly falls into this demographic but I have a feeling they may fit into the target group that should consider purchasing a the new Venture 3 Systems Telikin computer.
Fred Allegrezza, the CEO of Venture 3 Systems and creator of the Telikin was inspired to design a computer exclusively for seniors by his 84-year old mother, who suffers from macular degeneration.  The end product is a touch screen, all-in-one computer that uses the Linux operating system and combines email, photo-sharing and lots of other features into an extra easy-to use, 19-inch computer.
The Telikin resembles the monitor from the old Mac G4 Cube but all the features are completely built in including  video chat, email, photo sharing, virus protection, etc.  Computer neophytes will appreciate that the computer is ready to be used straight out of the box – just plug it in and go. Plus, the large 19" screen makes for easy viewing.  The Telikin is also easy on the wallet.  The 18.6″ model retails at $699 and the 20″ model is an affordable $999. The Telikin is a great concept if you have been looking for a low maintenance computer to bring granny online.
Check out this news report on a local ABC News affiliate station.
Visit the Venture 3 Systems Telikin website.