December 16, 2012 – 9:36 am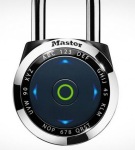 Over the years, I have bought, examined and evaluated a wide variety of tech gadgets. It is becoming increasingly more difficult for a new gadget to make me think, "This thing is Kool!" But the new Master lock dialSpeed electronic combination lock is definitely "Kool". I use a MacBook for both my work and home computing needs because I like the intuitive design of Apple products. In fact, I am so spoiled that when I try a new product, I prefer to just pick it up and start using it. I am willing to read a short Quick Start page of instructions but if I have to read a manual to get started, it is dead in the water as far as I am concerned. Although, the dialSpeed is more of a revolutionary than evolutionary product, getting started was a breeze.
These days we have so many numbers and passwords to remember, it is wonderful to eliminate the need to memorize the number combination of a traditional combination padlock. The dialSpeed lock uses a combination of just four "characters" – up, down, left and right arrows. These arrows are displayed on the backlit keypad, and are each matched up with a group of letters and numbers. This arrangement makes it easy to set up codes that correspond to words or acronyms. I think for most folks this will be the way to go. However, I prefer to use a touch pattern system like "up/up/down/down/right/left." I have used keyboard patterns to remember telephone numbers for years.
Programming the lock is a breeze. It comes with its own factory-set code but the user can reset it and program in up to three "guest codes" to allow different people use the same lock. I have several old combination locks laying around because I can't remember the combinations. If you forget the code on the dialSpeed you can recall the original factory code from the Master lock website. That is a good thing because using bolt cutters on the dialSpeed's shackle would be tough since it is made from cut-resistant hardened boron carbide.
There are a couple of issues that that need to be pointed out. First, the dialSpeed can only be used for dry indoor purposes. In addition, it is powered by a (CR2032) watch battery that needs to be replaced after about five years. On the upside it does have a low battery indicator so you will have a warning before the lock dies.
In the final analysis, I give the dialSpeed a big thumbs up. Check it out on the Master Lock website where it sells for $24.99.