June 1, 2017 – 10:21 am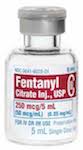 Every law enforcement officer needs to be able to recognize fentanyl and be aware of its dangers. Fentanyl is a concentrated opioid drug that's can be deadly even in small amounts.
If you have any doubt about Fentanyl's toxicity, take a few minutes to read this Washington Post article entitled "I was in total shock': Ohio police officer accidentally overdoses after traffic stop", about an Ohio police officer who came into contact with fentanyl during a traffic stop.
Officer Chris Green was wearing a protective mask and gloves and thought he was safe. Later at the station house, he brushed some white powder off his uniform. The powder was Fentanyl and it would have probably killed him if the paramedics hadn't have dosed him up with Narcan.
Don't forget to check out the short video "Five Things to Know about Fentanyl" that is at the top of the page when you visit the article.