September 8, 2017 – 10:43 am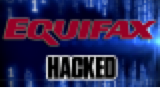 Equifax, the credit monitoring company, was hacked between May and July of this year. The hackers got names, addresses, social security numbers, birth dates and some driver's license numbers for approximately 143 million Americans. Check to see if you were one of the victims by visiting:
https://www.equifaxsecurity2017.com/potential-impact/
You can also call them at 866-447-7559 to see if you are a potential victim.
Equifax is offering free credit monitoring for a year that you can sign up for at the above website.